Precision Sales provides potentiometers used as voltage dividers and variable resistors in industrial, medical, military and commercial applications. Large problem solving selection. .Standard and custom design. Design, Manufacture & Sales. Call 800-523-3561 or 610-359-1002
Featured Products

Made in USA. Shaft turns 140 degrees total travel. Twist knob ,springs back to center.
Bushing mounts through 3/8" panel hole. Removable knob.
Looks like a rocker switch, acts like a single axis joystick!

30 degrees of travel. - Options : Spring return to one end.
Center tap. 1K, 5K or 10K ohms.Includes mounting bracket.
Speed Controls, Volume Attenuator - Linear & Audio and Log Tapers
Used in high end audio equipment. Military applications. Power rating up to 2 watts.
Single & Dual ganged available - Panel and shaft seals for panel washing.

Used as a Voltage Divider
Cable lengths : 4.75" , 12.5" , 25 " or 50 "
Polycarbonate enclosure.- Hybrid potentiometer element
2 watt power rating
Resistance : 10,000 ohms only.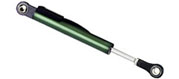 Conductive plastic element for long life. With wire leads.
Stroke lengths (shaft travel) : 12 to 150 mm (0.5" to 6")
Aluminum housing. For industrial control , medical and automotive applications.

Wire wound resistive element - All metal housing - 1,000,000 cycle life
Panel mount- 1/8" dia, shaft- 0.4" body diameter (10 mm)

Wire wound & Long Life Hybrid Elements - Water resistant sealed body options
Available with Slip clutches to avoid potentiometer breakage
Compact design 6 or 7 Digital Readout Counter for Gaming & Vending Machines
Electro-mechanical counters will not lose their count during power failures.
. UL & CSA Approved - Rugged Plastic Package

RUGGED and COMPACT Design
11A 125, 250 VAC Micro Switches and 4.5 to 5.5 VDC input hall effect potentiometer
Option:1, 2 or 3 axis . Sealed push button handle. Dead Man handle.
Dust proof boot - Mounting foot print 1.9' X 1.9"
Base is 2.7" square